Gurugama was here to play, and here to stay … that's why we love her for it!
The westerly, known tradtionally in Dhurga by the Wandi-Wandandian People of the Yuin Nation as Gurugama, was in primal form today, as a few of the brave-hearted VSC sailors decided to send it on a sunny winter's day.
As the first Expression Session before the upcoming sailing season, and received joyfully by the punters, this will be a reoccurring activity that will have one singular goal: absolutely send it and have fun doing it!
Dobbo, Spinelli, MB and Bryn were in fine form on the 14s, running tack-for-tack as they sent it around the 200m jetski mark and (bottom mark) and the cardinal mark off Holden St. (A mark). Bryn went for a swim, Dobbo was screaming with joy, and Spinelli was defying all the laws of sailing as he took on the blow with less than 12 months of sailing under his belt.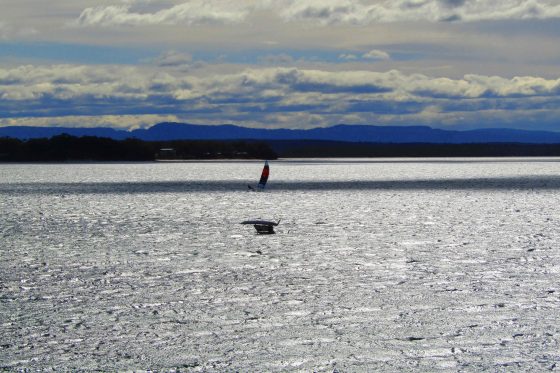 However, most significantly, the weekend's 'Expression Session' saw the return of the fabled Hobie Dragoons to Plantation Point, setting sail for the first time officially under VSC's roof. On one boat, Flynn, who's over from England, was having an absolute blast sailing one-up with the jib furled, and the kite cranked on as he sent it in hi-vis downwind. Gav even had a go on Saturday, and the GoPro footage sells it on its own.
Running along with Flynn, with her first bought on the Dragoon, Jillian 'The Thrilla' Raftery was running amok with Paddy, as they twin-stringed up and down the course as the onlookers gazed in awe. Despite a couple of near swims and a few red-hot crashes, the grins of cheekiness never faded as Jilla the Thrilla found her ropes on the Dragoon in some of the wildest conditions she'll ever face. we are beyond excited to see where she goes.
Finally, after a couple meat pies and some hyping up, Jimmy the Kid and Quicksticks Watt got dressed and sent it out on the Dragoon. Feeling weary of the kite initially, the pair were quickly convinced it was a glorious idea, as the Young Gun and Paddy were double trapping with the kite up on a reach in the blustery Gurugama.
After a quick swim and a summersault, the boys switch it up, with Bryn and Brody teaming up against Jimmy and Paddy for a couple of hot laps around the race course. The Young Gun was as dominant as ever on the helm, whilst Jimmy was under the pump as Paddy went like a bat outta hell on the kite, just as he did back in the day.
More can be sound about the VSC's first Expression Session, but for now, we'll see you next weekend.